This will be changing. I chose this theme just over two years ago and then got distracted with needing to bring in some income and frankly nearly forgot that I had even started this blog.
Recently, Twitter has gotten nearly all my random thoughts and comments, but like so many others I still hungered for a space for long(er) form. I kept thinking, I'll have to look at WordPress and start a blog. That went on for a while and then when I buckled down and got to it tonight, I saw  that I had actually gotten started. Years, literally years, had passed. This is the right time.
I'll beef up the menu at some point, but for now this is the content. The blog's the thing. This election year has me and a lot of other Americans pretty spun out. Yes, I have looked at Canada's immigration site so that all my West Indian relatives there, known or not, can be called on for help if things go too far out of control here.
Tomorrow is the California Primary. Somehow, the AP already called it for Hillary Clinton even though it's hours before the polls will be open. Understandably the Bernie people are ticked off.  AOL sent me the "Hillary Clinches Democratic Nomination For White House"  Headline through the notification system, but when I clicked on it I saw the headline above a picture of three women, none of who were Hillary Clinton and the article beneath the picture was not about the election.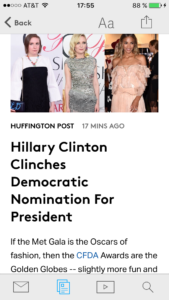 It's been a while since I've used the WordPress mobile app, but I'll be doing that tomorrow while I try to keep up with what's going on in politics and around California.
I'll be moving around in Sonoma County and San Francisco this week. And the East Bay on the Warriors game Friday.
I'm interested in getting more sleep than I used to, getting more focused that I have been in a while, and getting more energy. I think writing more will help with all of that.